Zambia is a country in Central Southern Africa with a population of about ten million.It covers a land mass more than 750,000 km2.It has an ethnic set up of 73 tribes.
Zambia was once a former colony of Great Britain but attained independence on 24 October 1964( also UN's day).It was ruled by Kenneth Kaunda through his United National Independence Party(UNIP) from October 1964 to November 1991 until he was defeated in the first free,fair and widely contested presidential and parliamentary elections by former trade unionist Fredrick Chiluba who stood on the Movement for Multi-Party Democracy(MMD) ticket for a five year term.Mr Chiluba re-contested and won again the 1996 election for another final five year term as per the constitution.The 1996 elections saw five political parties fielding presidential candidates.Dr Kaunda's UNIP did not field a candidate citing irregularites in the electrol process.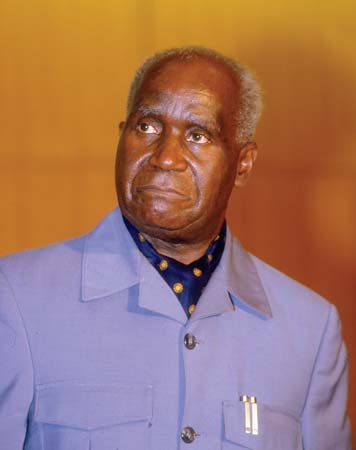 Kenneth Kaunda
When Zambia got its independence in 1964 it was surrounded by many states which where yet to be liberated.In the southern was Rhodesia(which was to become Zimbabwe) and Bostwana(which became independent in 1966).To the east Mozambique.To the west was Angola and South West Africa(present Namibia).To the north though independent was Congo ( future Zaire then DRC) which was politically unstable at the time.Zambia took a total liberation stance for its neighbours.A long struggle that would create indelible marks in the minds of many Zambians.The 1970s where the most trying moments for Zambia.This was the time when the freedom struggle for Zimbabwe was at its peak and the period when Angola and Mozambique(former Portuguese colonies) became independent.As pressure mounted on the Rhodesian regime of Ian Smith to recognise the people's right for independence,they mounted a full scale war against the freedom fighters who had by then opened camps in Zambia and other neighbouring states.Zambia gave refuge to Zimbabwean freedom fighters who came under the ZAPU patriotic front led by Joshua Nkomo(one of Zimbabwe's two vice presidents).They opened camps across Zambia most of which were bombarded by Rhodesian troops and mercenaries.1978 was one of the bloodiest.In one incident more than 200 Zimbabwean girls where executed in cold blood when their camp was attacked. 1979 was to lay the foundation for Zimbabwe's independence when the Commonwealth head of state meeting was held in Lusaka,Zambia.After a series of meetings Zimbabwe became an independent state in April 1980. Namibia was the next to fight for its independence from Zambian soil through its South West Africa People's Organisation led by Sam Nujoma.It attained independence in 1990. The only obstacle remaining in the fight for people freedom was now South Africa which was still practising apartheid.The Africa National Congress had also opened its offices in Lusaka,Zambia where they sought international support to pressurise the South African government to ban apartheid totally.It was a hard struggle but still Zambia played a major role by giving sanctuary to its opressed brothers and sisters.In 1990 after a moderate president (F W De Klerk)came to power in South Africa,Nelson Mandela was freed from prison after spending quarter of a century behind bars fighting for freedom of the opressed.After his release he immediately made his first international visit after captivity by going to Zambia to thank his long time friend Kenneth Kaunda and the people of Zambia for the role they played in the fight to dismantle apartheid. The following year his long time friend lost power after loosing the presidential elections to to Mr Chiluba.
Zambia is now a multi party state with a open market system open for outside investment.
Compiled by Martin Maimbolwa
Contact me at martinmaimbolwa@gmail.comA>